6650 E. Broadway • Mt. Pleasant, MI 48858
Phone: 989-775-4750 • Fax: 989-775-4770
Open Mon. thru Sat. 10am - 6pm • Closed Sundays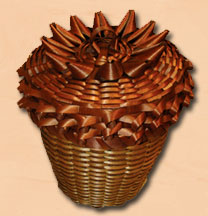 This Black Ash Acorn Basket was made by Ida Stevens while living in Blanchard, Michigan. Brenda Ballard purchased it from the Red Arrow Family in Houghton Lake, Michigan in 1983. It measures 6.25 inches high x 6.25 inches in diameter. Brenda Ballard is a current member of the Ziibiwing Center and resides in Sebewaing, Michigan. She donated the basket on January 5, 2007.
Past Featured Artifacts