6650 E. Broadway • Mt. Pleasant, MI 48858
Phone: 989-775-4750 • Fax: 989-775-4770
Open Mon. thru Sat. 10am - 6pm • Closed Sundays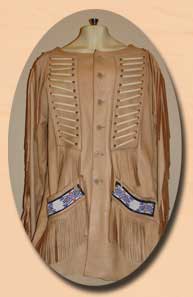 This Chief's Jacket belonged to James V. Waynee Jr., and was made by Sam Wolf of Texas. James was a member of the Saginaw Chippewa Indian Tribe of Michigan and was born in Bay City, Michigan on April 5, 1923.

James graduated from Bay City Central High School in 1941 and volunteered as a United States Marine Corps Raider 3rd Division - serving as a machine gun crewman during World War II in the Pacific Theatre. He was awarded the Bronze Star & Purple Heart, and earned Good Conduct & Marksman medals.

James appealed to the Saginaw Chippewa Tribal Council for permission to sew the tribal logo on his jacket. He was granted permission with the stipulation that the jacket be donated back to the tribe after his passing. James passed away on December 20, 2005.

Becky Bratten and Naomi Waynee gifted the jacket to the Ziibiwing Center on September 1, 2006.