2015 Governor's Award for Historic Preservation from Michigan Governor, Rick Snyder and State Historic Preservation Officer, Brian D. Conway.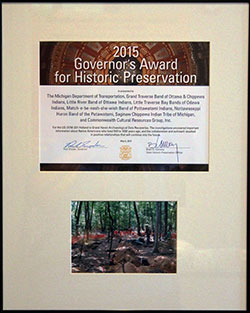 The Saginaw Chippewa Indian Tribe of Michigan (SCIT) received this award through the efforts of its Tribal Historic Preservation Office and Ziibiwing Center. For full story see the April 2015 issue of the SCIT's Tribal Observer.
2014 Appreciation Award and Proclamation of Native American Heritage Month by Mayor of Battle Creek, Michigan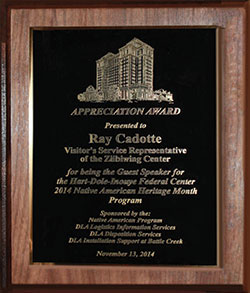 Ziibiwing Visitors Services Representative, Raymond Cadotte received an Appreciation Award and Proclamation on November 13, 2014.
Download .pdf for full details
2014 Institutional Excellence In Museums Award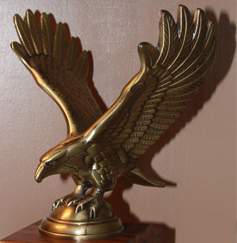 The Ziibiwing Center was presented with the 2014 DISTINGUISHED SERVICE AWARD The Ziibiwing Center received this award March 21, 2014 for " outstanding work in educating tribal citizens and the general public about Anishinaabe culture, history and lifeways."
Download .pdf for full details
2009 Institutional Excellence in Museums Award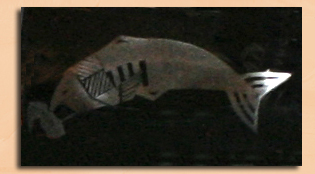 The Ziibiwing Center was presented with the INSTITUTIONAL EXCELLENCE IN MUSEUMS AWARD at a special Awards Luncheon on
Wednesday, October 21. In a glowing nomination letter submitted by one of the preeminent American Indian scholars today, Dr. Amy Lonetree (Ho-Chunk) from the University of California-Santa Cruz states, "The Ziibiwing Center staff has long acknowledged that they were museum-novices when they embarked on their ambitious plan to build the center and develop their exhibitions and programming. What they achieved ­ with their common sense, rigorous, and good-hearted approach ­ stands as one of the finest tribal museums in the country. What they have achieved truly represents a decolonizing museum practice and sets the standard by which future presentations of Native American history and culture ­ be it in a tribal museum or a mainstream museum ­ will be judged."
2008 Harvard University "Honoring Nations" Award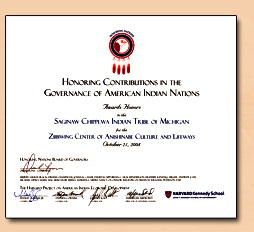 At the heart of Honoring Nations is the principle that tribes themselves hold the key to generating social, political, cultural, and economic prosperity and that self-governance plays a crucial role in building and sustaining strong, healthy Indian nations. Honoring Nations serves as a vehicle for collectively celebrating our many and diverse successes; fostering pride and confidence in the ability of American Indian governments to improve the well-being of their respective communities and citizens. The Ziibiwing Center received a $10,000 Honors Award to share our story.
2007 & 2008 Employee Fitness Challenge Trophies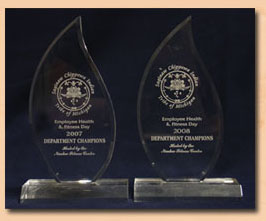 The Ziibiwing Center has won the First and Second Annual Employee Fitness Challenge trophies. This is a competition between approximately 60 tribal departments sponsored by the Nimkee Memorial Wellness Center. Employees earn points by walking laps and navigating an obstacle course. The event promotes our mission to lead a healthy lifestyle in the tradition of our ancestors. The Ziibiwing Center staff has proven to be a highly-motivated team that is supportive of one another. Our department is proud of the trophies and enjoys promoting events with Nimkee through community awareness displays. The Ziibiwing staff looks forward to the annual Employee Fitness Challenge.
2006 Museum Award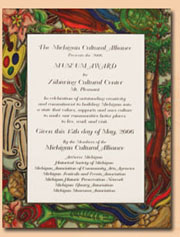 The Michigan Cultural Alliance presented the 2006 Museum Award to the Ziibiwing Center on May 15, 2006. This award was given
"In celebration of outstanding creativity and commitment to building Michigan into a state that values, supports and uses culture to make our communities better places to live, work and visit."
2005 Gold Muse Award - Creation Theatre Production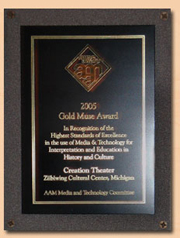 The Gold Muse Award was presented to the Ziibiwing Center in 2005 from the American Association of Museums' Media and Technology Committee for the
"Recognition of the highest standards of excellence in the use of media and technology for interpretation and education in history and culture."
This prestigious award is sought after by some of the finest museums in the country each year. Judges for the award stated that our Creation Theatre was a
"Beautifully conceived use of technology to bring traditional storytelling to a larger audience creating an experience that learners, regardless of age, will not soon forget."