Tours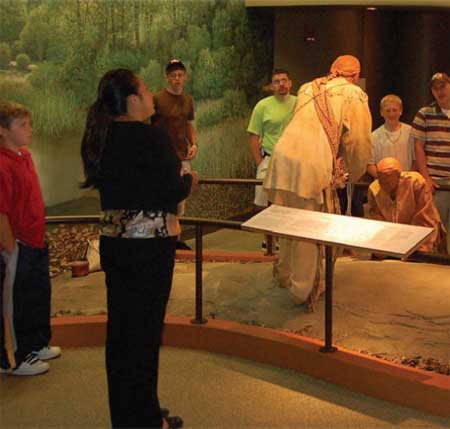 An interpretive guided tour through our Diba Jimooyung (Telling Our Story) Permanent Exhibit and Mikwawaabnjigewinon Changing Exhibit, led by an Anishinabe Visitor Services Representative, will take you on a journey through the time of our ancestors to the present day people. We offer plenty of time for questions and interaction with your students. Your tour experience may be tailored to meet your group's needs.
TIME: 1-1.5 hours
COST:
Teacher* One per class admitted free
Bus Driver* One per class admitted free
Students $2/person
Chaperones $2/person * Additional teachers and bus drivers will be charged $2/person
GRADE LEVEL: All Ages
More information on Diba Jimooyung
See educational resources for Diba Jimooyung
In addition to your tour, please consider one or more of the following activities during your visit to the Ziibiwing Center: a hunting & gathering exercise, cultural art activity, culture kit presentation, a fun game, song & dance presentation, or book one of our cultural presenters. There are several presentation topics available to choose from.
Contact our Sales & Events Coordinator at 1-800-225-8172 ext. 1-54744 or (989) 775-4744 Or mail or fax our School Group Reservation Request Form
The Ziibiwing Center 6650 E. Broadway Mt. Pleasant, MI 48858 Fax (989) 775-4770
After your Ziibiwing Experience please complete our Educator Satisfaction Survey