Exhibits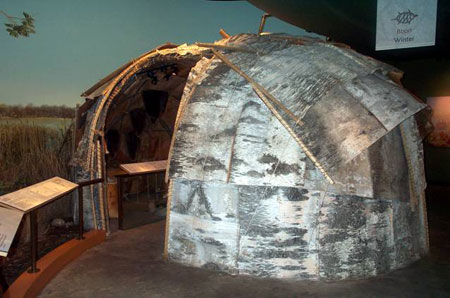 DIBA JIMOOYUNG (Telling Our Story) Permanent Exhibit
This exhibit tells the story of the original people of the Great Lakes. It walks you through the time of our ancestors and the era of our contact and co-existence with the light-skinned people. Your students will learn about our struggle to hold onto our land, language, and lifeways. Diba Jimooyung presents a celebration of our survival, our spirit of sovereignty, and our message of hope for all people of the world.
More information on Diba Jimooyung
See educational resources for Diba Jimooyung
Check out our Hunting & Gathering Exercises designed to complement Diba Jimooyung

MIKWAWAABNJIGEWWINON (The Things That Show You Who You Are) Changing Exhibit
This beautiful changing exhibit gallery hosts various collections of art and artifacts from North America. It also houses many of the items from our own extensive collections. See a new changing exhibit every year!
More information on our current Changing Exhibit
See educational resources for our Changing Exhibit

BBAAMOSEG GITIGANING (All Will Walk About The Plants That Grow) Plant Walk
Available June-September Take a walk through the Ziibiwing Center grounds and observe many of the plants that have been traditionally used by Anishinabe people, and are still used today. This outdoor exhibit includes plants used for many different purposes, including medicines, foods, and dyes. Many of the plants are native to Michigan and the surrounding region. A guide book to this exhibit is available upon request.

More information on our Plant Walk (Link to Plant Walk page on exhibits tab)
More information on our Plant walk Exhibit
See educational resources for our Plant Walk