CULTURE KIT PRESENTATIONS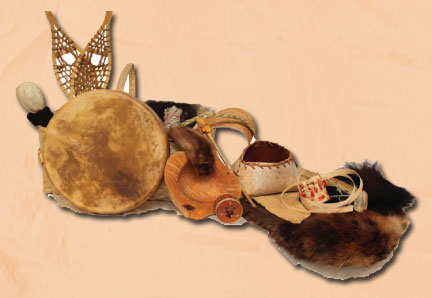 Explore the history and culture of the Anishinabek with this hands-on activity. Our Culture Kit contains examples of traditional works of art and utilitarian tools which were used to enrich our daily lives. These items continue to play an important role in our culture today. These cultural items help remind us how we are connected to all things in the universe and our role as stewards of Mother Earth. In this interactive presentation students will learn how mankind is dependent upon plants, animals, and all things in Creation for their survival. Students will also learn about the structure of the cultural items and how the Anishinabek utilize these items. The items in the Culture Kit include: birchbark container, toy birchbark canoe, birchbark cone, birchbark quill box, black ash basket, shaker,mink & ermine hides, rabbit fur, beaver pelt, sinew, sage bundle, sweetgrass braid, wild rice, milkweed fluff, black ash toy, cattail fibers, drum, winnowing tray, wooden bowl, and a hand-pounded copper bowl.
TIME: 30 minutes minimum
COST: FREE with group tour when requested
GRADE LEVEL: All Ages
Culture Kits are an optional part of any group trip to the Ziibiwing Center. We offer K-12 school groups complimentary room use with the booking of a permanent exhibit tour (for additional cultural activities), otherwise standard hourly room rates apply
Please contact our Sales & Events Coordinator at 1-800-225-8172 ext. 1-54744 or (989) 775-4744 for more information!