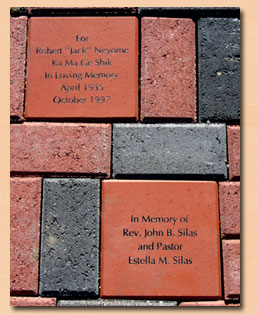 Contribute to the Ziibiwing Center and leave a lasting legacy
At the Ziibiwing Center, our goal is to make a special place for many people by combining the best of the past, the present, and the future of the Saginaw Chippewa Indian Tribe of Michigan.
We are the guardians of our treasured heritage and accept the challenge of taking our beautiful culture into the future. Each member of the Saginaw Chippewa Indian Tribe of Michigan and our supporters are called upon to play an important role in guiding our center into the future. Join us and become a part of the Ni-Bami Brick Campaign.
This initiative will give individuals an opportunity to recognize or honor someone by purchasing a brick in their name. With each purchase, you are able to inscribe the brick with a few words to honor the person you designate, such as a family member, a loved one, or a close friend. It is also an opportunity to celebrate a special occasion such as a graduation, wedding anniversary, retirement, or birthday.
Each purchase will cost $150.00 and is tax-deductible. Please consider joining the many others in our community by supporting the Ni-Bami Brick Campaign. Your help is needed and will be greatly appreciated. From the Ziibiwing Center, we would like to say "Chi Miigwech" (Big Thank You) for your continued support and encouragement.
If you have any questions, please do not hesitate to contact 989-775-4750.
Click here for brick order form