Over 1000 Native Americans and their family members gather for the largest Native American sporting event!!!
Day of Registration Open From 7:30 a.m. - 11:00 a.m.
Opening Ceremonies Begin at 9:00am.
Resources
Please Pre-Register Your Team
For this year's event, you again will be able to pre-register your team online. If you are the team leader for your tribe, we strongly encourage you to pre-register your team via the website. This will allow us to receive the information that we need to create wrist bands for the participants on your team. Registration will open on Wednesday, May 9th and close on Tuesday, July 20th.
---
Tribe Event Coordinators
Each competing tribe has an event coordinator. They can be found below

---
Your Tribe's Assistance with the Events Staff
Like years past, we will be asking other tribes to lead and operate one of the events/areas. The assistance and volunteer-ism in years past has been tremendous! Each tribe has excelled in coordinating their specific position and it has made for a very smoothly ran event. Your assistance in this matter is greatly appreciated.
See the Sponsorship & Volunteer page for more information
---
Team Representation
We encourage you to come in your own team shirt that represents your tribe. If you will be creating a t-shirt for your tribe, please email me the color that your tribe will be wearing so we can prevent duplication of colors amongst the other tribes. As in years past, we encourage you to bring a tribal banner or flag from your tribe/organization for opening ceremonies and to display throughout the day. We have a limited number of tents that may be used to help provide shade. Therefore, we encourage you to bring a tent of your own for the members of your community. Lunch will be served around 11:45. We also encourage you to bring your own snacks and to stay hydrated throughout the day.
Each year we hope to make this an enjoyable experience where many memories can be made once again. We look forward to your participation in this wonderful event to promote health, fun and fitness throughout the Native American communities in the State of Michigan!
New… Participants will receive a Souvenir Event Program Booklet at this year's event.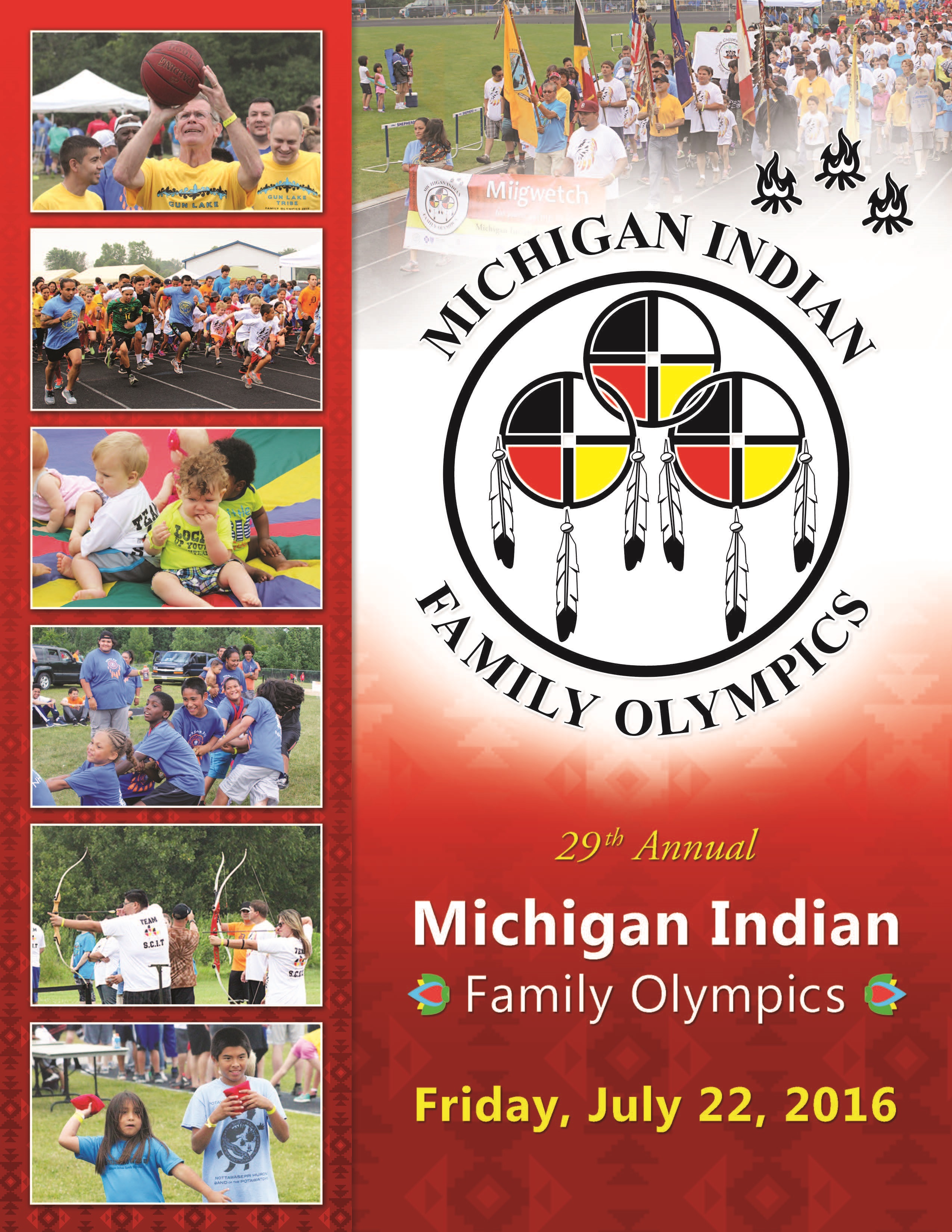 Booklet will include:
Schedules
Maps
History of MIFO
Other event info that will be helpful for the event day
If you have any comments or questions about the Michigan Indian Family Olympics please contact Jaden at the Nimkee Fitness Center.
Jaden Harman
Fitness Program Coordinator
MIFO Event Coordinator
989-775-4694
jharman@sagchip.org
Central Michigan University
Bennett Track & Field
2239 W Campus Dr
Mt Pleasant, MI 48859